While I didn't get to ride to this one, it was still very interesting. It happened that in the summer of 2001, I was vacationing in Canada with my family. We stopped at a motel and asked if they had a vacancy. The desk clerk laughed and told us we wouldn't find a vacancy for miles around, "tomorrow is Friday the thirteenth".
After admitting our ignorance of this significant statement, she went on to explain that all the rooms would be occupied because of the motorcycle rally in Port Dover. Obviously this meant that we had to detour from our planned route, and pass through Port Dover.
We finally managed to find a room for the night. The following morning we were awakened by the sounds of motorcycles firing up. We went outside and saw two men getting ready to leave. We talked with them while they loaded up their bikes and found out one was from Western Canada, with a charming Canadian accent, eh. The other was a truck driver from Florida.
We proceeded to Port Dover, a small town of about 5,000 inhabitants on the northern shore of Lake Erie. Sure enough, the streets were filled with bikes. I just had time for a few photos and to pick up a tee shirt and an "Official Souvenir Bikers Edition" of the local
Port Dover Maple Leaf
newspaper. The paper mentioned that a video was being made of the event by
Go Video Motorsports
.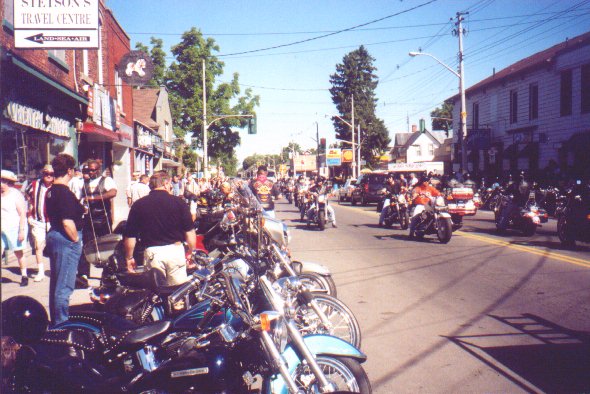 Main Street
Other direction
The legend is that a group of local bikers got together at the Commercial Hotel for beers one night in November of 1981. They had such a good time that they decided to do it again, and since it happened to be Friday the 13th, they agreed to meet again on the next Friday the 13th. Over the following 20 years there have been 35 Friday the 13th rallies, and the estimated turn out for this one was 100,000 people! A bit of a strain on such a small town.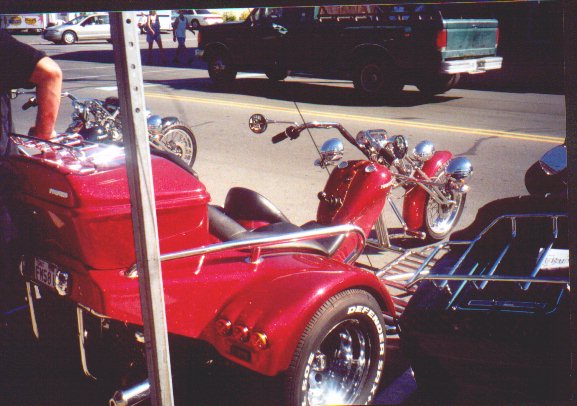 Custom Trike
Had to admire the red Virago
These rallies have occurred on Good Friday, as well as in the winter months. These hardy northerners don't seem to let the snow and cold keep them from having a good time.