Albany, Georgia and the Flint RiverQuarium
Hi Gang, or as they say down here: "Hey, Y'all"
Just returned from another neat adventure. We drove up to
Albany, GA
on Saturday.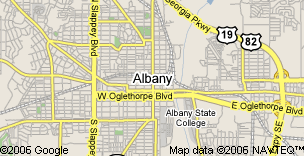 It was about a two hour drive, so we needed a place to stretch once we arrived. We pulled up in front of
Riverfront Park
and it looked like the perfect place. It had a huge playground will all kinds of really neat rides. My favorite was the slide. Instead of a smooth sliding board, it had rollers, it was a bumpy ride but very fast.
The park was a community effort, and was inspired by the story "Stone Soup". Except, instead of stone soup, they created "turtle stew" which became the theme of the park. There are several statues of turtles in various colorful variations.

There is a plaque on one wall which
tells the story of the park and its theme

The centerpiece of the park is a large concrete turtle with a rubber covered shell. This made it easy to climb on. We climbed up for a group picture.

Since it was almost noon, we had a picnic lunch at the park, using the back of a giant alligator for a table!

One next stop, actually the reason for the trip, was the
Flint Riverquarium
, just down the block. The first thing we did was see an
IMAX
movie on the exploration of the
Grand Canyon
. The scenes of flying through the gorge were awesome! Morgan and Sarah had both visited the
Grand Canyon National Park
last year. Morgan said it was gorgeous.
| | |
| --- | --- |
| | |
| The entrance to the Riverquarium | Waiting for the IMAX movie to start |
After that we toured a special exhibit on venomous creatures. That was spooky. There is even one exhibit where you crawl under the platform and stick you head up in a plastic bubble. We came face to face with a
diamondback rattlesnake.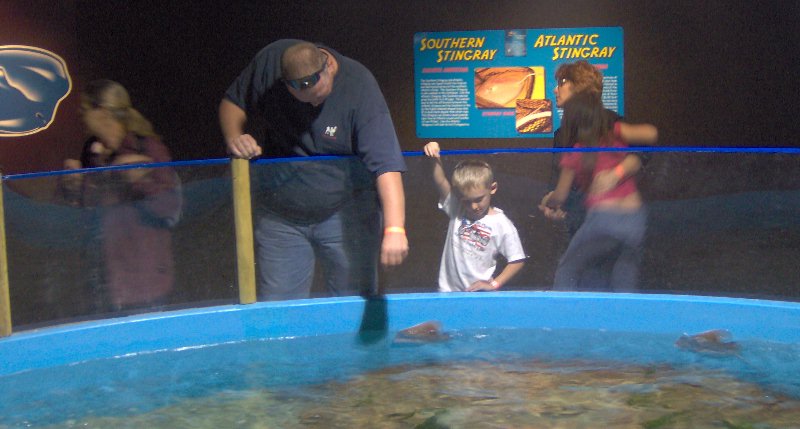 The water tank held
stingrays,
which we could pet and feed. I decided to stay away from the water on that one.
We then went over to the main museum. We saw all kinds of aquatic creatures, turtles, alligators, and a wide variety of fish. The aquarium is designed around a blue hole spring which we could view from both under the water and above the surface.

| | |
| --- | --- |
| | |
| The Blue Hole is visible at the surface | and deep under water |
Here are some of the things we saw:

After we were done, and were dragged out of the gift shop, we went back to the park.

We sat and watched the Flint River flow under


the railroad bridge.

We stretched out by rolling down the hill.
We were all hungry again. So we drove over to the
Longhorn Steakhouse
for dinner. Their lobby had another kind of fish we didn't see at the Riverquarium, a longhorn salmon!
Longhorn Salmon

Finally it was time to head home, with a bunch of sleepy kids in the car.
'til next time,
Stanley